5 minimalist curtain models to make your home look beautiful and luxurious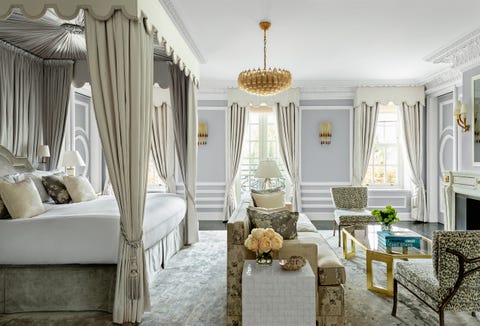 Minimalist living models are currently particularly popular with homeowners in large cities. One of the reasons for this is the high price of land in large cities, so that the area for building houses is usually limited. Architects and designers also need to find ways to create small homes that families can comfortably live in.
From there, a minimalist living trend emerged that could offer a comfortable home that wasn't too big, but still offered good aesthetic value. Even if the house is not too big, it does not mean that the value and function of a safe and comfortable place to live is secondary to the family. Precisely because of its small shape, a minimalist house can show simplicity and family warmth.
In order to make a minimalist home clearer and nicer, there are a number of things to consider, especially in the interior. The balance really needs to be considered so that the house doesn't look crowded and stuffy.
The choice of furniture and other decorative items also has a huge impact on the space in the house. In this article, we will discuss choosing curtains that are suitable for a minimalist home. So if you have a small home, get inspiration from models of curtains that can make the room beautiful and spacious!
Curtain model with two levels
Usually a small minimalist house also has a small window. The two-tier curtain model is a suitable model for small windows in your home. In addition to their cute shape, these curtains can add variety to the decoration in your home. With a few motifs and accents on simple curtains like the one in the photo above, curtains can be a functional sweetener. Usually this model of curtain is mostly used for kitchen windows, but that doesn't mean it can't be attached to other small windows, you know!
Curtains in two colors
If you want to bring a cheerful atmosphere into your home, you can choose curtains of two colors. Minimalist houses are usually painted with neutral colors like white, cream, and light brown to make them feel wider. Therefore, the use of curtains in this model can add color to a simply painted room and make the room look more cheerful.
As a tip, make sure that the curtain color you choose still matches the decor of the room. If you plan to use bold colored curtains, be sure to use decorative accents of the same color too, so that the room looks harmonious. For a curtain model like this, choose a curtain that is longer than the window, as it will make the ceiling of the house appear higher.
Striped curtain design
Sometimes some people feel that curtains make a room seem cramped and crowded. However, there are curtain models that create the illusion of a larger house. One of them is the use of curtains with horizontal stripes. Choose curtains with sufficiently large lines so that the broad impression is immediately visible. For the color selection, you can adjust the overall decor of the room.
Let the curtain model dangle
Long curtains with a hanging model are synonymous with large and luxurious houses. Such models of curtains are also suitable for minimalist houses with small windows. As mentioned earlier, curtains that are longer than the window can give the impression of a larger room. To avoid the impression that you are cramped and crowded in the room, choose long curtains of bright colors. If you want to install curtains with patterns, choose a simple motif.
Roll-up curtains
The layout of furniture and the choice of decorating styles in a small, minimalist house have a huge impact on the space in it. Sometimes curtains open to the side are annoying because they can hit objects next to you. As a solution, you can opt for roll-up curtains, curtains that can be rolled up. With these curtains you don't have to worry if the curtains take up too much space. You can also choose from a wide range of motifs and curtain fabrics of this type.
After reading some of the types of curtains for a small minimalist house above, you probably already have an idea of ​​what type of curtains you are going to buy to decorate a home window. Tips for buying curtains for a minimalist home are curtains that are not over the top in size and design. Also combine the color and motif of the curtains with other furniture or furniture to make them harmonious and conceptual. Good luck!